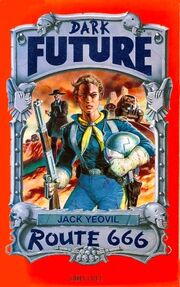 Route 666 is a novel by Jack Yeovil, published by Boxtree Books in 1993.  It is an expansion of the short story Route 666 published in the anthology Route 666.
Route 666 was republished by Black Flame in 2006.
Though published fourth and numbered second, Route 666 is the first novel in the Demon Download Cycle's internal chronology.
Plot Summary
Edit
Write the first section of your page here.
Main Characters
Edit
Write the second section of your page here.
Publication History
Edit
Write the third section of your page here.
Ad blocker interference detected!
Wikia is a free-to-use site that makes money from advertising. We have a modified experience for viewers using ad blockers

Wikia is not accessible if you've made further modifications. Remove the custom ad blocker rule(s) and the page will load as expected.